Health and Safety
We are excited for the vaccine rollout and the adjusted government orders. Even with those changes, we will continue practicing the following safety guidelines focusing around physical distancing, disinfecting and other preventative measures. It is subject to change based on updated information and recommendations from local, state, and federal authorities.
Please take a moment and read the information below before attending lessons.
COVID-19 Safety Guidelines
Please respect our requests so we can create the safest environment possible for everyone.
​Face masks are required for everyone over the age of 6 years old at all times while in the swim school except while in the pool.
Our swim instructors will be wearing face shields in the water. Adult clients in Baby and Me classes are welcome to wear face shields.
Enter the building no more than 10 minutes before your scheduled lesson.
Practice physical distancing and keep kiddos close when they are not in a lesson.
We highly encourage families to come and leave in swim gear when practical to reduce the number of people in the changing area.
Who can come to swim lessons?

Limit your swim entourage to one adult per swimmer.
Non-swimming siblings? If your family has no other choice, bring the sibling and keep them close to you.
If a baby swims with one parent we understand that sometimes a second set of hands is helpful with these little ones.

Who should NOT come?

Anyone with any symptoms of any illness in the last 24 hours.
Anyone who has come into close contact in last 14 days with a person who has tested positive for COVID-19.
Anyone who has tested positive for COVID-19 in the last 14 days.
Anyone who cannot follow the guidelines.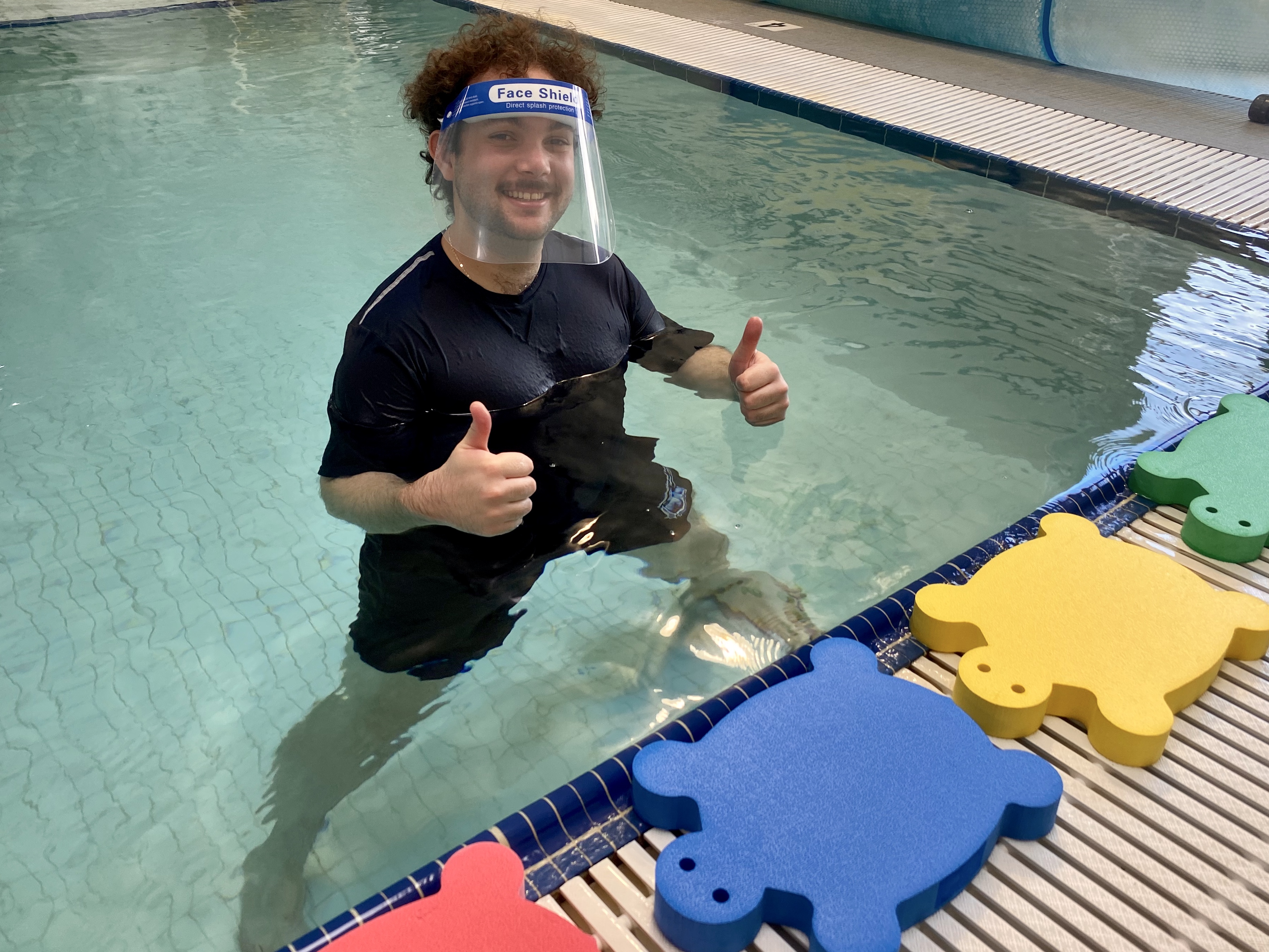 Changing Area, Showers, Lobby and Viewing Area
We ask families to respect physical distancing while in the lobby, on the pool deck and in the changing areas.
We highly encourage families to come and leave in swim gear as much as possible to reduce the number of people in the changing area before and after your lessons.

Changing areas can be used as needed.
Showers will be open and can be used as needed.
Please dry off and exit the building following your lesson.
Bring the minimal amount of personal items.
The number of chairs in the lobby have been reduced to promote physical distancing.

We have added chairs on the pool deck to provide more space.
Procedures for a Safer Environment
Personal Protective Equipment will be worn by our staff.
Reduced the maximum number of teachers per shift in order to reduce occupancy and to allow for physical distancing,
Installed protective sneeze guards at our Front Desk.
Closed down playground equipment, picnic tables and slides.
Retail and Snacks: Retail is open with limited snack items.
Increased frequency of disinfecting all highly used surfaces.
Installed hand sanitizing stations.
Face Mask Details
Approved:

A well-secured cloth or mask that fits snugly against the face and covers an individual's nose and mouth. It must be made of a material that prevents the discharge and release of respiratory droplets from a person's nose or mouth.
Not approved:

Face coverings with exhaust valves.
Face coverings made with materials such as mesh or lace fabrics.
Face coverings that do not cover the nose and mouth.
Face shields without the addition of a face covering.
Keep mouth and nose covered at all times. Guests not wearing an approved facemask will need to wait outside.
We are grateful for our HFSS families. We take the safety of your family and our team seriously. We thank you for working with us to put these best practices in place. We do our best to maintain a loving and caring environment.
Be patient. Be kind. Be safe.