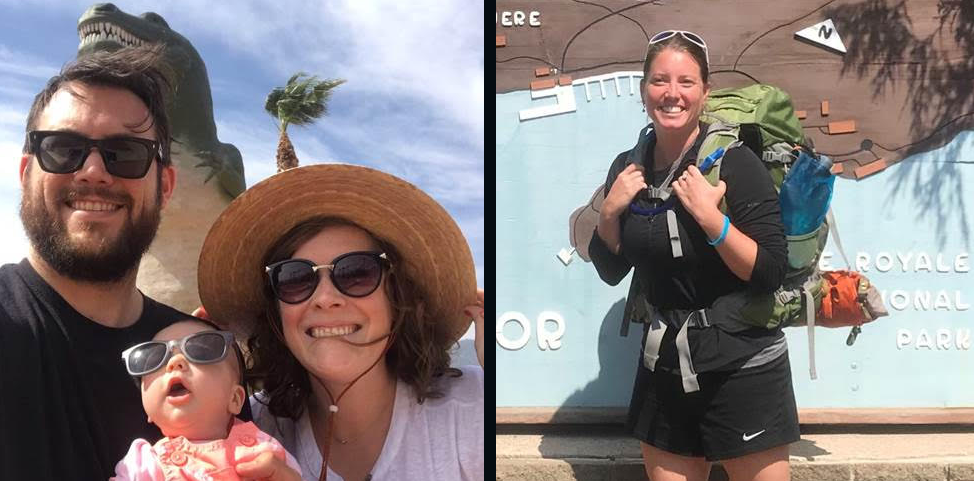 There are some new and exciting changes in Mesa with Hubbard Family Swim School swim lessons.
After spending 13 wonderful, rewarding, chlorine-scented years working full-time with the Hubbard Family Swim Schools, our much-loved General Manager at our Mesa Riverview location, Andrew Goodwin, has decided to take the plunge into an exciting, new career direction for 2021!
Andrew is going to embark on graduate school this year while continuing to work part-time at Mesa Riverview and enjoy spending more time with his wife, Hillary, and their adorable baby girl, Hazel. Andrew was born in Apple Valley, MN, and raised in Phoenix. He went to North Canyon High School and then graduated from Arizona State University with a B.A. in Integrated Studies.
All of us at Hubbard want to thank Andrew for his many years of excellent work and heartfelt dedication to teaching children how to swim and be safer around water. Andrew's long-time career as a swim instructor and General Manager has truly impacted the lives of thousands of Arizona children. Thank you, Andrew, for being such a valuable part of our Hubbard family. We wish you all the best! Andrew will still be around teaching baby swim lessons, learn to swim lessons and advanced swimming stroke technique with us for several months so be sure to say hi!
We also want to introduce you to our new, full-time General Manager in Mesa - Susie McArdle - who has been an outstanding leader with Hubbard for the past two years, holding multiple roles in our swim schools, and working as the amazing Director of Camp Hubbard.
Susie was born in Owensboro, Kentucky, and grew up in Sioux City, Iowa. She went to Wartburg College (Waverly, IA) where she majored in English and History and played NCAA softball and tennis. She earned a master's degree in Nonprofit Management from Arizona State University.
She loves tennis, traveling, hiking, camping, and everything else that Arizona has to offer. She is on a quest to go to all 423 units of the National Park System - she's halfway there! She's also a Big Sister in Big Brothers Big Sisters and serves on the American Camp Association Local Council of Leaders.
We feel very fortunate to have both Susie and Andrew as part of our Hubbard family!

Contact us to enroll your child in our swimming program, or check out our Riverview location here.